In Memory
Bruce Culbertson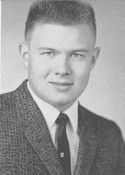 After graduation, Bruce attended Morningside College while working with local contractors. He later transferred to Dunwoody Institute located in Minneapolis, where he learned his trade as a draftsman and estimator as a rebar contractor.
Bruce worked in both the South and West and later moved to Las Vegas, where he worked as the liaison between the Bureau of Land Management and the contractors during the remodeling of the Hoover Dam facilities.
Bruce passed away in 2004 of a heart attack and is survived by his son, Brent Culbertson and wife, Bobbi, of Dakota City, Nebraska.

Rest in peace, Bruce.